| | |
| --- | --- |
| Posted on December 9, 2013 at 11:35 AM | |
Hi guys!
I just wanted to post something funny that happened after I put up the Christmas tree. First off, I knew if I just put the all the glittery stuff (ornaments, garland, snowflakes) up high she wouldn't mess too much with the tree branches, but this year I decided to get fake snow since it is so hot in December.
Well, the fake snow did not go down for two reasons. A, my cat thought it was so fun to pounce, and roll, and hide under. You would think an almost 5 year old cat would be over being so mnischievious. B, of course a fennec thinks things on the floor belong to her. so first she tried digging in it, to which I told her "NO." Then she tried buring herself and playing hide and go seek with the cat, to which I told her "NO." At this point I know she thought I was being a party pooper, but the last thing I wanted was for her to think it was acceptable to mess with and eat it.
Then, of course, she tried putting it in her mouth. I yelled at her again, yet everytime I wasn't looking, she thought it was okay to be all sneaky and swipe it. One time when I caught her, she plopped down like, "I swear I wasn't up to anything."
Long story short, we won't be having fake snow next year.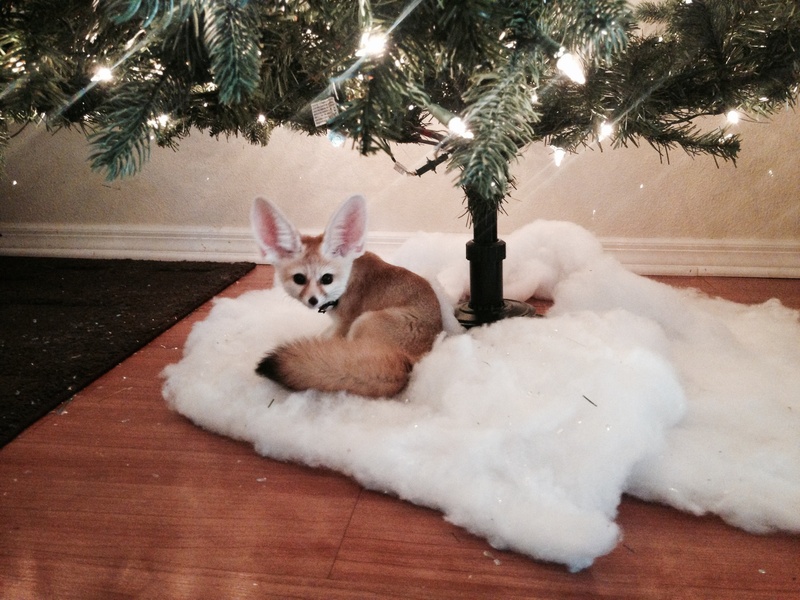 Categories: None