| | |
| --- | --- |
| Posted on March 27, 2010 at 11:24 AM | |
Okay, so I keep getting asked how I possibly trained a cat to go to the bathroom on the toilet. Well this method can be used to toilet train any animal that goes in a litter box. My dream is to train the fox how to use the toilet, but I am not getting my hopes up, since just using the litter box is an accomplishment. And remember, you should only change steps EVERY OTHER day, or if your pet has trouble, every few days. Here is a day by day guide of how to train an animal;
*Disclaimer* I am not claiming this will work with every animal, this is just what worked for me. And if you have multiple cats or small dogs, etc, it will be extremely hard since they will mimic bad behaviors. Also if you are near me, I will train them myself, for a small fee.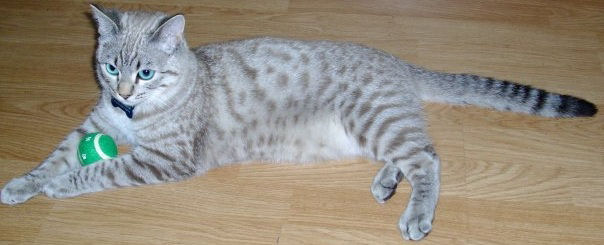 DAY 1
-Move the litter box or potty pad right next to the toilet and give plenty of praise and a treat when they go on it. If the litter box or potty pad was far away from the toilet you might want to split this step up and move it a little closer and closer each day to the toilet. Chances are, they will like this new "game" of getting a treat for something they have been trained to do, and will want to continue these behaviors.
DAY 3
-Add a phone book under the litter box or potty pad, so it is elevated a litter higher than the ground.
DAY 4
-Add another phone book. Keep adding phone books every day until it is level with the toilet. Keep giving lots of praise and treats for good potty behaviors.
DAY 6
-Remove the litter box or potty pad. Now there are many kits for this step, but I was cheap and used a giant piece of cardboard from a pizza box. Draw 4 circles so you have 4 layers on the carboard inside your toilet seat ring. Place the huge square (or you can cut it to fit the shape of your bowl) under the round toilet seat. Add litter (preferably flushable) to the hole on top of the cardboard.
DAY 7
-Cut the smallest ring (which should make a tiny hole about half the size of your palm) out of the cardboard and put litter around the rest of the cardboard in a circle. Some pets will be unfazed, others will freak out. Let your pet adjust to this for a few days, I waited two. keep giving plenty of praise when they go on the cardboard.
DAY 9

-Cut the next ring of cardboard out, and sprinkle new litter around the smaller cardboard ring. Give plenty of praise when the pet performs their skills on the toilet. Remember, if your pet decides to go on the floor or has an accident, you can always go back a step.
Note: My friends cat wanted to hide his poo in the bathtub and only would urinate on the toilet. Since most cats are afraid of water, I would fill up your tub when you cannot watch your cat. This stopped my friend's cat's behavior immediately.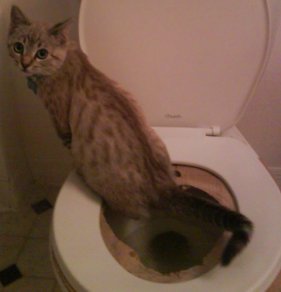 DAY 11
-Remove the third ring. You should only have one ring left. Your animal will have to balance on the outer part of the cardboard, or the toilet seat to go. And keep in mind, this will be a little stinky for the two weeks it takes to accomplish toilet training. If they can go on the potty well, give them treats, if they are having problems, go back a step or two.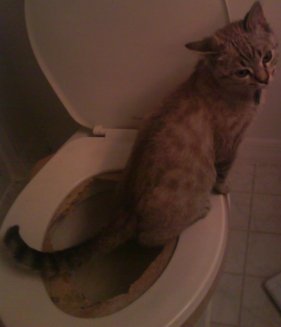 Day 12
-Cut out the final ring, but leave the unseen cardboard ring under the toilet seat. Leave this here for smell, familiarity, etc. Your pet should be able to balance on the seat now, and when they go, give them double the treats for balancing and performing their tasks correctly. Leave the ring on the toilet for about another 5 days so they get used to the smell, etc, then they should be able to go without it all by themselves like this;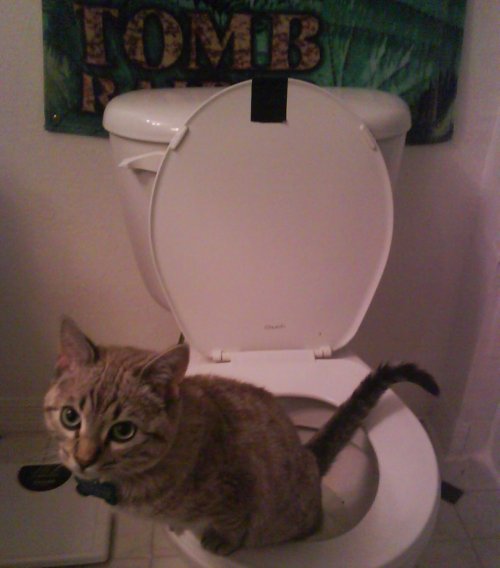 Categories: None