| | |
| --- | --- |
| Posted on February 26, 2010 at 2:30 PM | |
My 8 month old Snow Bengal cat, Alias, used to LOVE all other animals. He would play with dogs, chasing them and playing tag. Even though she would bite his tail and chase him even when he was work out, he still liked her. And I figured when I adopted him that hey, foxes are able to be trained to use leashes so why not train him too?:cool:
And so we went for walks, which at first they were more like drag-alongs, but now he walks perfectly fine on a leash. In fact, when he feels like going out for a stroll he will calmly wait by the front door. Sometimes he meows incessantly if you ignore him.
But one day, he thought one of his little nine lives was up.
We were walking calmly on the sidewalk as usual, when this little Rat Terrier shows up. Have you ever met one of those animals that are so vicious, hates other animals, bites and scratches it's own owner, yet the owner still thinks they are God's gift to the world? Well, that's exactly how this ugly Rat Terrier's mommy felt. The excuse for a dog started growling and going crazy at the site of my cat, but the woman had one of those retractable leashes (which should have been pulled snug like my cat's was) and the dog ran towards us in a flash. He bit my cat really hard right on the thigh, because my cat didn't run away, at first thinking he wanted to play. The dog wouldn't let go so I shoved him sharply away from my cat the woman screamed "Stop it! Stop it!" When I realized she was NOT talking to the dog, I grabbed that little 5 pound mutt and had to hold him away from my cat, who clawed his way up to my shoulder.
Now I was pissed. I am not a very angry person in general, but people such as this woman could start my temper going in less than five seconds. And now I have scratch marks to prove it because I hadn't trimmed his nails yet this week. After calmly grinding my teeth and telling her she should have kept her dog on a tighter leash, while she was screaming at ME to control MY cat, I ended up walking away as she yelled, "I could sue you!"
At this point I calmly said, "Go ahead."
So now, naturally, my cat is terrified of dogs, and this stupid woman undid my 2 months of socializing my cat.
Today, I was walking my cat as normal, and everything went fine except for the usual car starting, and then two tiny puppies ran out from the neighbors front porch. The puppies were adorable and harmless and didn't even notice the cat, but my cat almost did an air 360 as he tried to pull in the opposite direction. I just picked him up, feeling his pounding heart, and surprised he didn't have a heart attack, brought him back to our doorstep. I had even been taking him to visit my neighbor's dog almost every other day!

He is just sitting happily on my pillow, glad he survived his second 'near death' experience.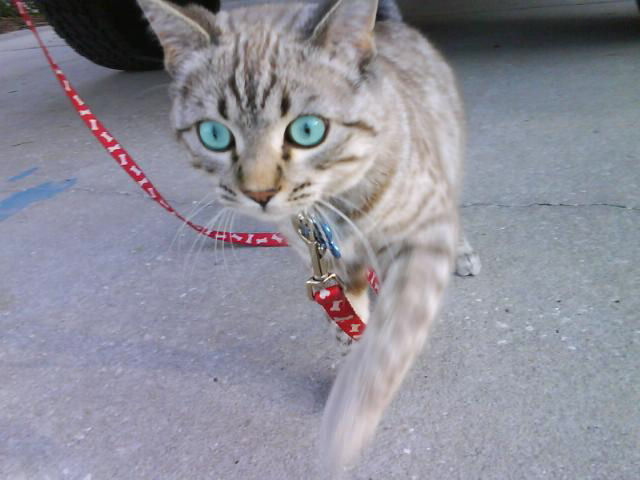 Categories: None