| | |
| --- | --- |
| Posted on March 31, 2013 at 12:30 AM | |
Well, one time I left my french fries on the table from Mcdonald's (hey it's been like 6 months since I ate there). And of course baby foxes want to take advantage of you when you aren't paying attention. So she jumped up while I wasn't looking and carefully stole a french fry, not knowing what it was. She gave herself away by the AMAZINGLY loud shriek she gave.
It can be roughly translated as; Oh my gosh I didn't realize this is the best food in the history of ever! Humans must be Gods!
I have never heard her scream that loud out of excitement. She immediately tried to steal another one, and she was so lighting fast, she grabbed the bottom of the container. I grabbed the top so they didn't spill, and we were in a ridiculous tug-of-war. Well, long story short, the container ripped and they literally went flying everywhere like a movie.
Well, my cat heard the commotion, so he ran with his little fat belly over and grabbed as many fries as he could as she stuffed her mouth, screaming all the while with her mouth loaded with my fries, and I waited till she thought I wasn't looking and grabbed her back out of her cage. I put her in the bathroom while I cleaned up and bribed my cat out from under the bed with treats.
After cleaning up the greasy mess, the foxy learned all food I have is delicious treats sent from God, so she had immediately investigated my next few meals for weeks.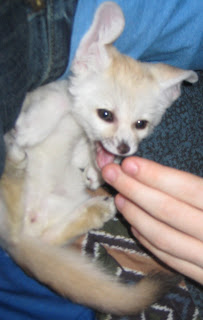 Categories: None