| | |
| --- | --- |
| Posted on March 31, 2013 at 12:25 AM | |
Okay so one time, my kitty cat was being very cat-like and decided to nap in the middle of the floor. Well anything on the floor is fair game to a Fennec Fox. They own all the items that made their way to her level.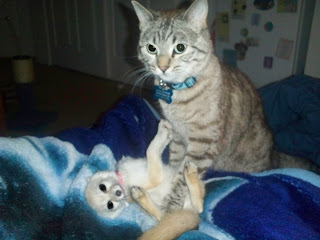 So Alias the kitty was peacefully sleeping in his favorite position, spread-legged with his tummy in the air. Well, he was too peaceful for any Fennec. She decided she would walk over to him, inspect that he was really sleeping, then pounce on his fat tummy.
Well, Alias decided if he ignored her, she might get bored with her little brain being as ADHD as it usually is. So he jumped up unto the couch and fell back asleep.
Guess who decided to jump up and onto his belly again? She just couldn't resist. So the cat decided maybe if he leaves the room he can sleep. He goes into my bedroom and lays there, slowly falling asleep. He is slightly snoring when in trots smunchy fox. She pounces so hard on his tummy he decides to pin her down and go back to sleep.
She looked up at me like, "Aw, I failed daddy."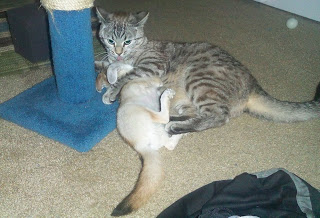 Categories: None