| | |
| --- | --- |
| Posted on March 31, 2013 at 12:05 AM | |
Today I decided to attempt at translating some of the noises they make (Notice how everything has an exclamation mark, this is because the Fennecs always get their point across with emphasis).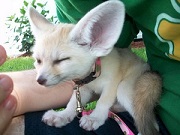 The Squeal:
Daddy, I love you! I haven't seen you in ages! Or, Daddy, I love it when you scratch my ears and tail! Or, Thank you thank you thank you for letting me out of the cage! Good morning daddy!
The Warble (usually a short lower-pitched noise):
Usually when they would face off with the cat, or get down low with their ears back as if to say 'I am not happy and things better start to go MY way!'
The Quiet Purr:
'This is so nice of you to rub my back and scratch my ears, Daddy. I am getting sleepy. This is comfy, right here . . . Yawn . . . I'm so relaxed. . .'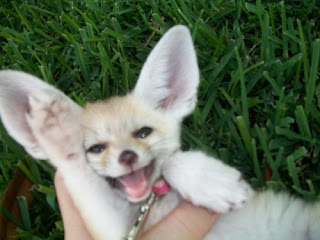 The Scream:
'OH MY GOSH I HAVE SO MUCH ENERGY - I'M GONNA RUN - IMMA RUN FASTER, AND FASTER! OH MY GOSH DADDY THIS IS SO MUCH FUN! I AM SO SO SO SO EXCITED AND EVERYTHING IN THE WORLD IS NEAT!'
The Bark:
[Sounds just like a small dog] Give me attention please Daddy! You are not paying attention to me!
There are new noises everyday. I will always keep an eye out for more. Keep an eye out for the next post, I will be explaining the complicated relationship between Alias the Bengal cat and the Fennec Fox.
Categories: None