| | |
| --- | --- |
| Posted on January 1, 2009 at 1:45 AM | |
...so of course I decided to get a second fox in April 1997.
A fennec is a three-pound desert dweller native to the Middle East, sharp-toothed and short-tempered, with enormous ears and dark, soulful eyes. Fennecs don't walk anywhere; they dash, lightning-fast, tail high. Like any fox, they can be imprinted and trained, but not tamed.
So I know where she is and what she's doing, Julian wears a bell, handmade for her by a falconer friend I've known for years, who's the gentlest, quietest, most inoffensive guy imaginable. Julian took an instant and inexplicable dislike to him, and when I shut her in her box she screeched dire warnings for the duration of his visit. The only man she fully accepts is my father, who feeds her greasy fast food on the sly.
She bosses Asha unmercifully, snarling and snapping if he comes too close when she's eating or playing with a toy, or sometimes for no discernible reason at all. She climbs him like a mountain to stand on his head, and uses him to jump on and off my recliner. She, too, steals his chewies, and he endures it with that legendary Golden Retriever patience.
At other times she'll snuggle up against him, her coat and his so alike it's hard to tell who's who. She'll bring him a dog biscuit from the jar on the counter, lay it in front of his nose and watch him eat it, then sprint off for another. The record so far is twelve in a row. When he hears her fishing in the ceramic jar Asha thumps his tail, blithely forgetting how she sinks needle teeth in his ears and digs tufts out of his silken coat.
Her dinner each night is a well-balanced buffet, set out of canine reach on the kitchen table: a mouse or rabbit or squirrel meat, diced mixed vegetables, honey toast, miniature carrots, assorted sugar-coated cereals, fruit of the day, the occasional leftover from my dinner, and a dish of vanilla liquid diet supplement. She checks it all carefully, then, like any four-year-old, she runs off to eat the dead leaves stuck to the firewood.
The trick to living peacefully with a fox is a policy of complete capitulation. To keep her from pulling down my curtains in her effort to walk on the narrow windowsills, I installed wide carpeted shelves. When she developed the habit of creeping about in the cupboard, knocking over dishes, I crammed all my dishes onto the top two shelves and lined the bottom shelf with soft flannel. Insatiably curious, she comes running when I call, because there's always something fun or yummy or interesting. She somehow makes me feel honored when she accepts treats and toys.
When she wants to be petted-and she's remarkably affectionate-she regally presents herself, confident from experience that I'll drop whatever I'm doing. If I take too long to finish reading a paragraph, she slides in front of the book. At night she fox-naps on me, leaping off without warning, then jumping back up just as suddenly. The cooler the house, the longer she lingers; never ask a chilly fennec if she loves you for yourself alone. She's a tiny little tyrant in a woolly, sand-colored coat, and I can't imagine life without her.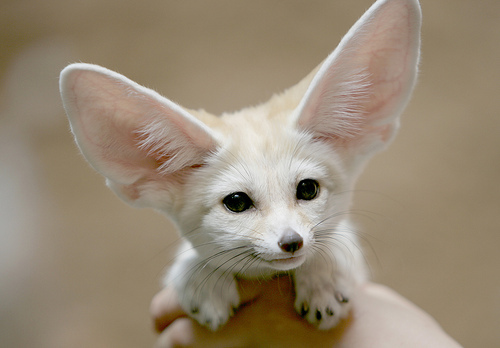 Categories: None